Carpet Cleaning in Basingstoke
Why Choose Our Carpet Cleaning Services? ✅ A & K have been voted Basingstoke Excellent Carpet Cleaning Company of 2020-2021-2022 ✅ We are known for Our Quality professional cleaning services. ✅ Thorough Deep Carpet Cleaning processes that will remove years of Ingrained Dirt, Stains, Odour, and Allergens. ✅ We don't cut corners, we clean them. ✅ Our 100% Satisfaction Guarantee or your Money Back for your peace of mind. ✅ Your carpets will Dry Within Hours and NOT Days. ✅ 14 years of expertise in the cleaning industry of professional cleaning. ✅ Proud members of the (N.C.C.A) National Carpet Cleaners Association.
100 % Satisfaction Guaranteed From £79.99
Carpet Cleaning Experts
---
There is no one single cleaning method that will suit every Carpet, Rug, or Upholstery fibre construction in your home. It is essential that the professional carpet cleaner you employ is qualified to select methods that are effective to achieve the best cleaning results without damaging the item being cleaned.
We're N.C.C.A Qualified Professionals Carpet, Rugs, and Upholstery Cleaning. Our carpet cleaner cleans Deeper, Sanitise, Deodorises and gets out the toughest stains from carpets, including ones other cleaning companies won't touch or could not remove. Do just take our word for it, read our reviews, and put us to the test.
We Don't Cut Corners, We Clean Them!
3 Effective Ways For Healthier Home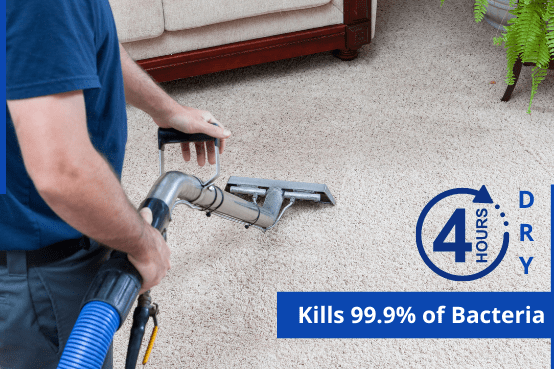 Carpet Cleaner &  Sanitiser
---
✅ Carpets contain on average 7 Billion Bacteria per square meter, it is proven to affect health and in some cases, respiratory and skin conditions.✅Carpets are beneficial acting as a giant filter absorbing and collecting common allergens and germs in our homes. Just like an air filter, carpets do become full and must be properly cleaned to remain effective at trapping particulates from the air.
Carpet cleaning and sanitising will kill 99.9% of Bacteria and Allergens from your home. Our technician will choose the best system and sanitiser, effective enough to remove common household allergens and bacteria from your home.  ✅  A long-lasting layer that prevents bacteria from feeding or breeding – killing 99.9% Over 7 days period.
Kills 99.9% of Bacteria & Viruses
Carpet Clean & Stain Protector
---
Over Time, Dirt and Spills are inevitable and the factory-applied stain resistance becomes less effective and fades away leaving your carpets susceptible to staining. Stainshield Is a heavy-duty carpet and upholstery Protector that creates a barrier around the carpet fibre to resist soiling, blocking staining and allowing spills to be easy cleanup before staining can occur on carpets or Upholstery.
 ✅  When Applied Scotchgard will protect your carpet and fabrics from damage from everyday spillage stains in addition dirt and grit will not stick to the fibres, thas making daily maintenance easier, more effective, and adding years of life to your investments. ✅  Creates a safe and invisible, stain-resistant barrier that repels water for up to 12 months before re-application.
Protects Your Investments From £9.99
Pet Stains & Odour
---
Bad odours are nasty to live with and tough to destroy. Pet odour, Smoking, Mould, Mildew can create a significant problem in our properties.  These odours typically are embedded into carpet, curtains, upholstery, and even into the walls. ✅ We eliminate odours from their source by killing the microorganisms and eliminating them permanently.  
Our carpet cleaning processes will not just deal with your carpet and Upholstery, but also the underlay and the subfloors in your home. "DIY odour removal and cleaning methods" are often tried in vain before resulting too replacing carpets or upholstery. We use sustainable ways to eliminate odours and sanitise your home, we use Ozone generator.
Destroy Odours From Your Home
The NCCA Consumer Advice
---
The NCCA membership comprises professionally trained carpet & upholstery cleaning technicians who are fully insured and follow a Code of Practice. They are recommended for a full range of services related to the cleaning & maintenance of carpets, hard flooring and soft furnishings.
By means of our comprehensive training programs  NCCA members hold recognised qualifications and can undertake work in many disciplines related to the cleaning & restoration industry.
Now you know why go, anywhere else?
Ask Your Local Carpet Cleaning Expert
---
Q: Do I need to move all my furniture in the room?
A. No, but if possible, move as much furniture out of the way as possible. the more surface area the professionals can clean, the happier you'll be with the results. Our cleaners will happily help move any furniture that does not require more than one person. We would also kindly ask that you remove breakable Items out of the way before the carpet cleaner arrives.
Q: Can pet odours and urine be removed?
A: Yes, we used specialised cleaning tools and cleaning products to dissolve and eliminate odours permanently from your carpet and home.
Q: Can you remove all stains
A: To successful remove a stain depends on a few things; type of stain, the type of carpet or upholstery fibres and if anything DYI has already been used on the stain. stains can be permanent and therefore we can't make any promises that we can remove them. We can't guarantee to remove every stain but get better results if called before any DIY attempt to remove the stain. Some stains are permanent, and no amount of cleaning will reverse this
Q: How long will my carpet take to dry?
A: There are several factors that affect drying time, humidity, indoor and outdoor temperature, and the type of fabric. We use modern cleaning tools that are efficient in extracting moisture leaving your carpets or upholstery damp and will dry within a few hours. At A & K we use specialist tools and machines to speed up the drying process. 
Q: Do I need to Hoover before you arrive?
A: Yes, we'd recommend that you give your carpets an initial hoover before we arrive, especially if there is a lot of dust, fluff or larger particles on your carpets. Our Carpet cleaner will then follow up with more detailed vacuuming before cleaning your carpets. 
Read More FSQs
Now You Know, Why Go Anywhere Else?
---