How Clean Is Your Mattress?
You will spend about a third of your life sleeping on your mattress, but, When was the last time you got your mattress cleaned? Back when most mattresses could be flipped over, the conventional wisdom was that you should turn it over twice a year without the need for a professional mattress cleaning. Today's modern mattresses with their density, weight, and composition have a defined top and bottom. Mattresses, and Duvets, are by far the most unhygienic items in your home. They harbour dust mites (in millions of dust mites droppings per day) bacteria, viruses, fungi, moulds, and dried body fluids. To protect your family get Total Hygiene and Allergy Protection which is a Proven Mattress Cleaning Solution.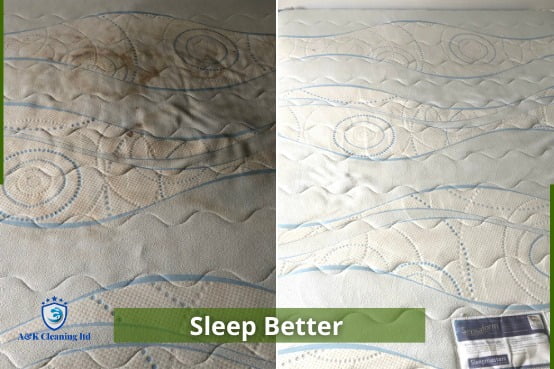 Total Allergy Protection
---
You will spend about a third of your life sleeping on your mattress, but, When was the last time you got your mattress cleaned.? Just as the clothes we wear need regular washing to keep them fresh and hygienic, Your Mattress could be making you sick. 
Mattress Actigard is very effective when applied on Items that are not regularly laundered. carpets, rugs, curtains, soft furnishing. Actigard has the ability to kill germs on contact killing 99.9% over 7 days period. Treating new or cleaned carpets, Upholstery or rugs will prevent mould, fungi, and bacteria, from breeding, providing long-lasting protection until removed by washing. Eradicates any existing activities of dust mites, moths, fleas, bed bugs, or bacteria.
A Healthier Choice From £89
How Does It Work?
---
We thoroughly Vaccum and deep clean your mattress, then steam clean it, extracting dirt, stain and body oils. In the final step, we apply the mattress protector and then dry it. On treated textiles, it will eliminate infestations by destroying the food chain from which the dust mites thrive and procreate from skin and excrement without this source dust mites, mould fungi, and bacteria cannot develop.
Treatment will remain effective until removed by washing, providing long-lasting protection against Asthma, Eczema, Sinusitis, Mould, Fungi, and Bacteria.
Killing 99.9% Over 7 Days Period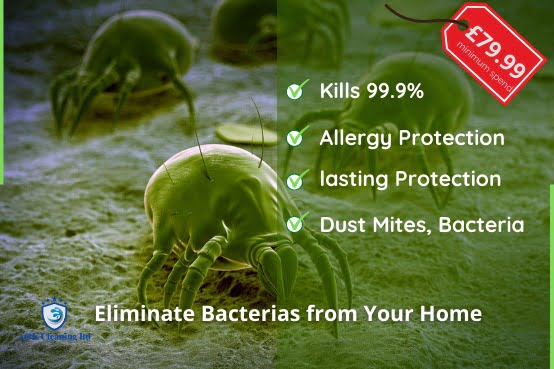 Sleep Well With Allergyshield
---
How Does it Work? An invisible barrier is created on treated textiles that eliminates the food chain of dead skin and excrement that dust mites breed on. without this, they cannot survive. Actigard is also a comprehensive sanitiser that will kill fungal moulds and bacteria together with their resulting malodours. 
What Can I Have Treated? Any carpets and textiles that cannot be regularly washed at 60 degrees. other high infestation areas include mattresses, duvets, pillows, bed bases, fabric bed heads, furniture, and rugs. wall fabric and curtains. all fabrics are subject to infestations including polypropylene and stain-resistant items.
How Long Will It Last? Actigard is permanent to normal daily maintenance, wear and dry cleaning. Commercial wet cleaning will however remove a percentage of the product necessitating retreatment.
Can Actigard Be Applied for Other Infestations? Yes, Antigard will kill fleas, bed bugs, moths, carpet beetle, cockroaches, etc.
How Safe is it on My Furnishings? Artigard formulations are adapted to suit all fibres and fabrics (silk to sisals) eliminating any risk to distortion or shrinkage and improving on drying times.
How Long Does it Take To Dry? 1-2 Hours with good air circulation. Deep pile carpets can take longer and premature contact with outdoor shoes or clothes should be avoided. 
How Is Actigard Applied? Antigard is spray applied by nominated retail stores and professional cleaning companies.
---